Don Walter & Tape Hunt covered by in-flight mag of United Airlines


Ready for take off? Hemispheres, the in-flight magazine of United Airlines has covered Don Walter's story in their November issue,
The article, researched and written by Victoria De Silverio, has been released on November 3rd 2022 (print and online version). It is accompanied by vivid illustrations stemming from the hands of brazilian artist Fabrizio Lenci, who has treated us with a detailed picture of Don Walter recording himself on his battered cassette recorder.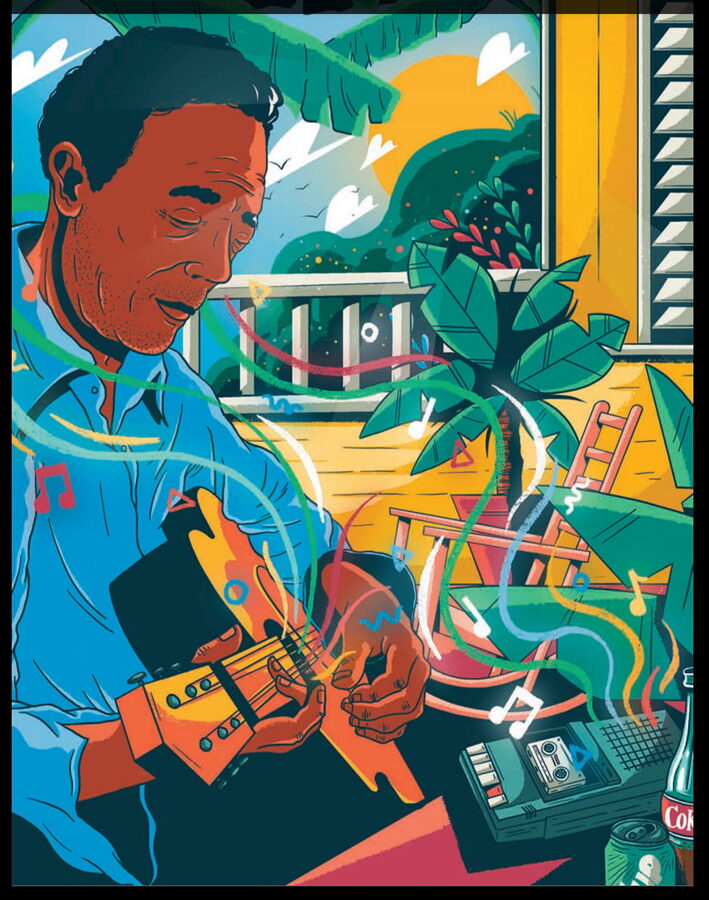 Illustration by Fabrizio Lenci.

Though the depicted recording session stems from the artists imagination, it is rare that we get a quite realistic glimpse at one of the many recording sessions that were held by Mr. Gavitt, the master Calypsonian and King of home recording, during his productive years. A scene that - sadly - has actually never been captured on film or photo in reality. In this short film about the life of Mr. Gavitt, an actor playing Don Walter is seen recording on a similar cassette recorder.

The article itself makes a good read, musicologist Michael Williams was interviewed as well as Don Walter's children Peck, Doreen and Luis. It is quite accurate, with the exception of a detail in Don Walter's discography: Apart from one track, the mentioned "Golden edition Vol.1" album does not feature tape hunt recordings, but is a compilation of songs from the Papaya label, and it was issued by Theo Symes Campbell together with the Ferguson family.
Check out the online version of the article here.
As always we are thankful for the publicity and hope to spread the word of the Tape Hunt even further with this article. And with a bit of luck, we might find more tapes this way - fingers crossed and stay tuned.
Text by Victoria De Silverio.
Illustrations by Fabrizio Lenci.
No comments
Leave a reply