Don Walter's portrait in Portugal
Did you know that a renowned Portuguese artist did a portrait of Don Walter? Here is the Story.
When Portuguese photographer and film maker João Silva returned to Lisbon from an extended trip to Costa Rica, where he had helped to create the South Caribe Roots Archive, he must have had hundreds of great photos in his luggage, many of them portraits of local people.
Back in Lisbon, he met up with his friend, artist and singer Pedro do Vale, an internationally renowned painter of big, photrealistic portraits. The two friends looked through João's portrait photos for inspiration and Pedro's eyes soon fell on a picture showing an old man from Cahuita with a unique facial expression. Pedro liked it and decided to paint it. João explained to his friend that this man actually is the legendary musician Walter Gavitt Ferguson, which he had interviewed for the Roots Archive.
It took Pedro do Vale about two months to finish his amazing portrait of Don Walter. This great piece of art is still in Lisbon today, belonging to the artist.
Above: Portrait painting by Pedro do Vale (2017, charcoal on paper). Below: Original photo from 2014 by João Silva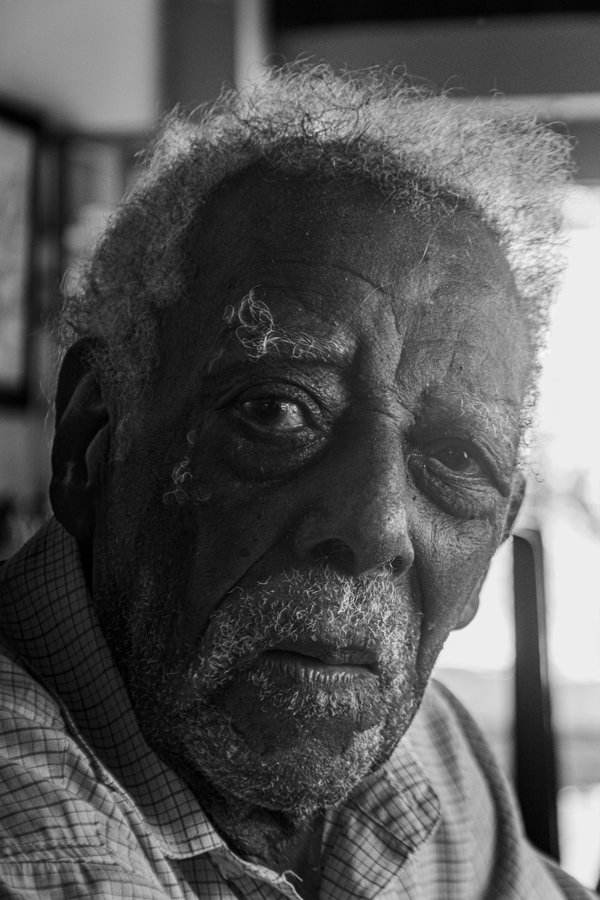 Big shout out to photographers João Silva and Lucas Iturriza for sharing the story of how the portrait came about.
3 comments
- Don Walter's portrait in Portugal
Enrique - April 24, 2020 at 4:51 pm
Increíble work! It this portrait going to be exhibit on any gallery in Lisbon? I'm a Costa Rican currently living in Lisbon, so I would love to see it
Werdenberg - April 25, 2020 at 8:08 pm
I cannot believe, this is a painting?!!! What a gifted Artist! Life time expressions in Don Walters face and eyes.
Nancy Comeaux - April 29, 2020 at 6:06 am
Looks like a black + white photo. I know Walter Ferguson, he is a main stay in Cahuita. CR. Thank you. His family might appreciate
a copy.
Leave a reply